While their eccentric CEO creates regular, market-moving headlines, Tesla's (TSLA) stock has traded in a wide, but predictable range between $250 and $380 for the past 2 years, confounding investors ranging from short speculators to ardent bulls. While still viewed as a startup company (albeit highly valued one), Tesla has been prone to severe market gyrations from short squeezes to painful sell-offs as market positioning, measured by CrowdThnk, continues to oscillate amongst extremes. However, the one predictable facet of Tesla's stock price action is that extremes in market positioning typically beget a reversal in price action. That is, when market positioning becomes overweight or underweight to a significant extent, TSLA tends to change direction. The most interest part of this phenomenon is the reliability with which one is able to forecast the future direction of the stock given Tesla's historical CrowdThnk Positioning Scores.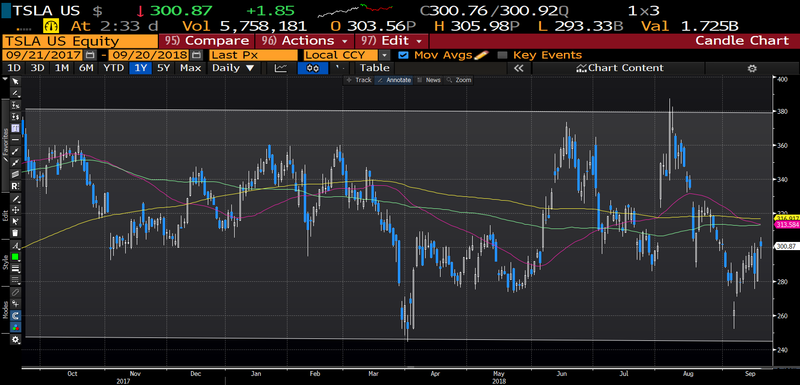 TSLA's stock price has been oscillating between $250 and $380 for most of the past year
Tesla's Historical CrowdThnk Positioning Score: Swinging from Extremes
Tesla's stock has plunged since early August amid a wave of negative news, including an SEC investigation into the company and Chief Executive Elon Musk, executive departures, and speculation that Tesla will fail financially. Among other things, Elon Musk's erratic behavior – ranging from tweets about cave divers in Thailand to his emotional TV interview to publicly musing of taking the company private – have emboldened short sellers who don't believe the stock is worthy of its $51 billion valuation.
On the other hand and bullishly speaking, Tesla is on pace to deliver a record number of its cars in the third quarter. And despite reports of quality issues, Tesla's new 4-door electric sedan, called the Model 3, earned a 5-star rating from the National Highway Traffic Safety Commission (NHTSC). Furthermore, Tesla's revenue is expected to double during the third quarter to over $6.1 billion versus 1 year prior, boosting the Bulls' confidence. Finally, analysts are expecting Tesla's loss to narrow to $0.33 per share versus its loss of $3.06 last quarter. Thus, the bulls have plenty of reasons to be excited to buy the dip and continue to do so at extreme underweight positioning levels.
Between these bear and bull extremes, CrowdThnk has actively measured the market's positioning score by crowdsourcing various alternative data ranging from 10k filings, insitutional reports, surveys, custodian reports, SEC filings and more. Here's a look at Tesla's historical positioning score over the past year: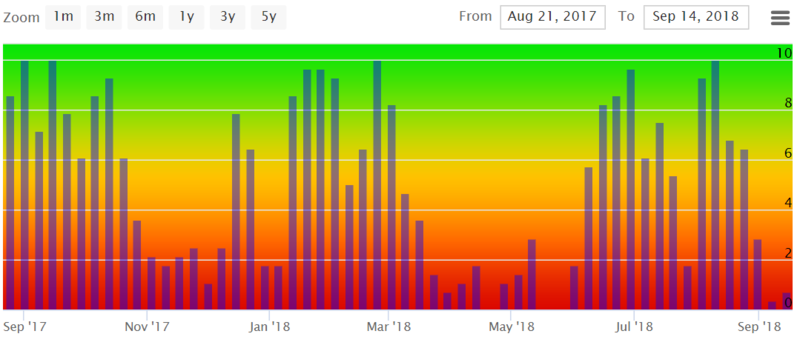 Active Investor Positioning has oscillated significantly between extremes over the past year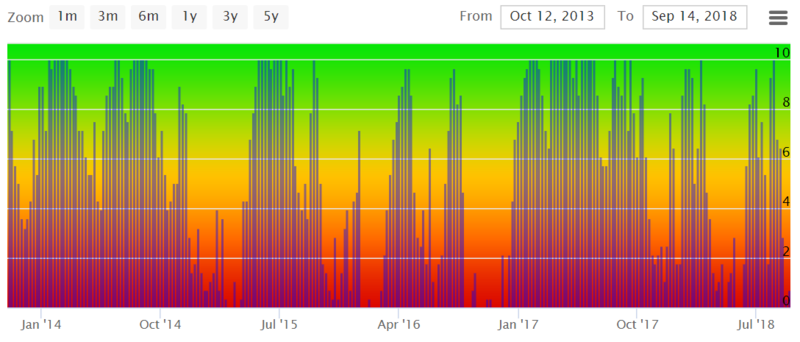 This pattern of extreme positioning swings has been consistent with TSLA's stock over the past 5 years
Tesla's Short Sellers have felt the magnitude of Positioning Swings
While there are many reasons to remain confident in Elon Musk's ability to deliver given his previous success with the likes of PayPal, SpaceX and other ventures, the naysayers have a lot to hang their hat on. As the cost to borrow short can be expensive, short sellers have been moving in and out of the stock, varying their short positioning lengths. Among the rationales short-sellers ascribe to are:
In fact, the Short Interest in Tesla is back above 35 million shares and the stock has remained volatile over the past year, even while the company has ramped Model 3 production to 5,000 a week. As can be gleaned from the chart below, Short Sellers have seen their interest ebb and flow, attempting to avoid being caught in a painful Short Squeeze like the one that rocked markets on August 7th when Musk tweeted those fateful words, "Considering taking Tesla private. Funding Secured", at a valuation of $70 billion or $420/share, which has placed Tesla in the hot seat of SEC Regulators, potentially facing criminal prosecution.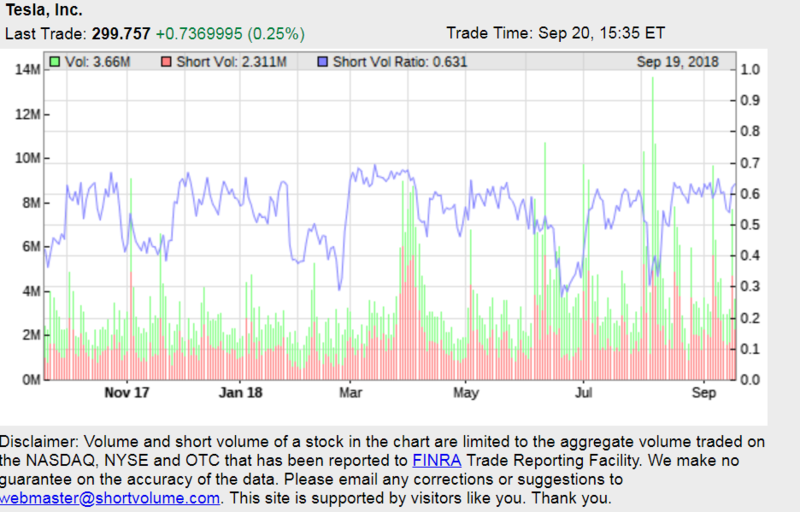 Source: Shortvolume.com
Short Interest in Tesla's stock has swung upon various news headlines, moving positioning along with it.
Ability to Forecast Future TSLA Price moves given CrowdThnk Positioning Score
Looking at various buckets of positioning scores, one can see that TSLA tends to mean-revert at extremes in positioning levels. Over a 1-month timeframe, when the CrowdThnk Positioning Score reaches above 8, there is roughly 70% chance of a sell-off and whenever the CrowdThnk Positioning Score falls below 2, there is approximately a 60-65% chance of a rebound. Over a 1-week timeframe, those probabilities range around 60% at either end of the extreme. While these may not sound like high conviction probabilities, it actually represents a standout characteristic of Tesla's stock from a positioning standpoint when compared to others. Moreover, the symmetric and linear probabilities on either end of the spectrum are an anomaly, indicative of a true mean-reverting stock with respect to positioning.
Currently, Tesla's positioning score stands at an extreme underweight reading of 0.7, meaning that there is roughly 57% chance of a move higher in the next month while it currently sits near the middle of its range at $300. However, it has rebounded nicely from a low price of $252 it hit on September 7th – a gain of nearly 20% in 2 weeks - proving that there remains consolation for the faithful bulls willing to buy the dip. Meanwhile short interest continues to accumulate and its negative sentiment hanging over the stock like a cloud has continued to deliver underperformance for investors, especially when stacked against the performance of Nasdaq this year.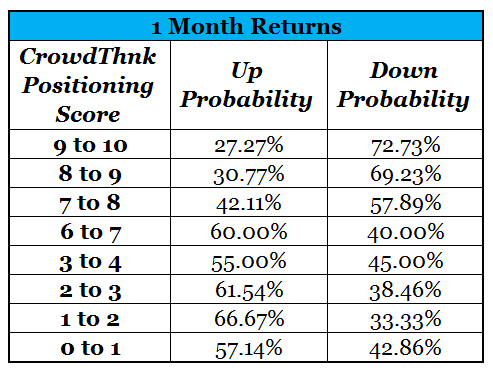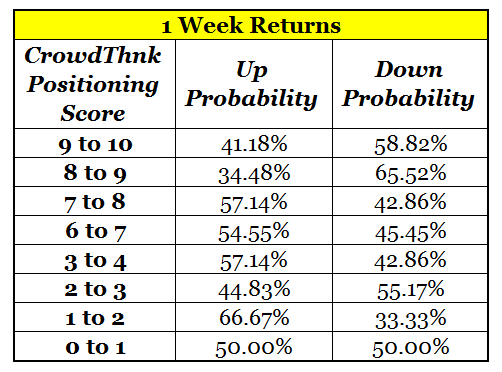 Given TSLA's historical CrowdThnk Positioning Score, one can assess the future probability of its price move over a discrete period of time
Opportunities for Heavily-Shorted Stocks such as TSLA
Heavily shorted equities such as TSLA typically provide market investors an interesting opportunity to quickly profit in a short amount of time given how negative market consensus is on a stock. However, the key in doing so is to time the market precisely and buy before a potential positive catalyst ensues. This requires identifying which stocks are heavily shorted first, knowing it's general tendency with respect to positioning, and usually requires an investor going against the crowd as these stocks probably have something fundamentally wrong with their underlying business. However, when a positive catalyst – such as an takeover/buy-out of the company at a premium over market valuation – occurs, it can be very painful for those investors with Short Interest in the stock. By knowing market positioning and identifying those potential opportunities ahead of time with CrowdThnk, investors can stay ahead of the curve and identify Short Squeeze opportunities such as those Tesla has experienced in the past.
Where does this mean for Tesla's stock in the future?
Different stocks have different tendencies and characteristics in terms of how they react at positioning extremes. Some stocks tend to mean revert against crowded trades whereas other stocks, especially tech stocks, tend to "ride the trend" and continue to move in the same direction as the crowd. However, in Tesla's case, the opposite holds true and they firmly exhibit, almost more than any other stock, a true tendency to mean revert at market positioning extremes.
Furthermore, short squeezes can often result when unexpected positive news impacts a consensus underweight stock, as which happened in early August when Musk delivered that notorious tweet. Given the tendency for this stock to experience volatile moves on relatively little information (symptomatic of a startup characteristic), there looks to be more swings in store for the future. As such, we recommend investors to remain nimble and non-committal on this stock, playing both sides of the extreme in market positioning and sentiment. One pattern is consistent with Tesla's stock: the extremes in CrowdThnk Positioning Scores present opportunities to investors on both sides of the spectrum. If you're ready and familiar with the stock's tendencies, you'll stand a much better chance of striking when the opportunity and iron is hot.