As Christmas is just one week away with the holiday season upon us, we took a look at the well-known "Christmas Rally" phenomenon, in which a surge in stock prices typically coincides with the Christmas holiday. There are numerous explanations for the Christmas rally, including tax considerations, happiness and optimism around Wall Street, people investing their Christmas bonuses and the fact that the pessimists are usually on vacation during that week. After all, Wall Street has little room for a bear during the most joyous time of the year and the statistics confirm this occurrence. Many also consider the Christmas rally to be a result of people buying stocks in anticipation of the rise in stock prices during the month of January, known as the January effect, when new capital is deployed and equities appreciate.
A historical study of the S&P 500 Index price move around Christmas shows that stocks tend to rally significantly from one week before to the last trading day before Christmas Day on December 25th. On average, the 5-day return before Christmas has been +1.7% since 2010, which lies on the 78th percentile of all 5-day S&P 500 price moves – a statistically significant reading by comparison. Out of the past 7 years since 2010, only 2012 saw a slightly down move (-0.26%) the week before Christmas. On the other hand, the S&P 500 price move after Christmas has been flattish or down a bit, with -0.05% return one week after Christmas Day, indicating that the Santa Claus rally doesn't persist for the holiday period between Christmas & New Years, when most investors are on vacation.
Will this year still follow this Christmas Rally pattern and should investors load up stocks now,? According to CrowdThnk's proprietary positioning measure, US Stocks in general have seen extremely long positioning lately with many individual stock positioning measures around +10 (extreme long or overweight) readings. In particular, the positioning score for the S&P 500 Index overall is currently around 8.5 on the scale of 0 to 10. However, based on CrowdThnk's Machine Learning algorithm, we forecast that S&P will continue to rally with 72% probability in the following week, despite this extreme length in positioning. To be more specific to answer the question posed, yes, given there are still 5 more trading days until Christmas, despite Long Positioning Readings, it still looks attractive to retain a long equity bias.
Here is the normalized S&P 500 Index before and after Christmas (average of all daily returns). Note the protracted and gradual increase in value starting from 5 days ahead of Christmas: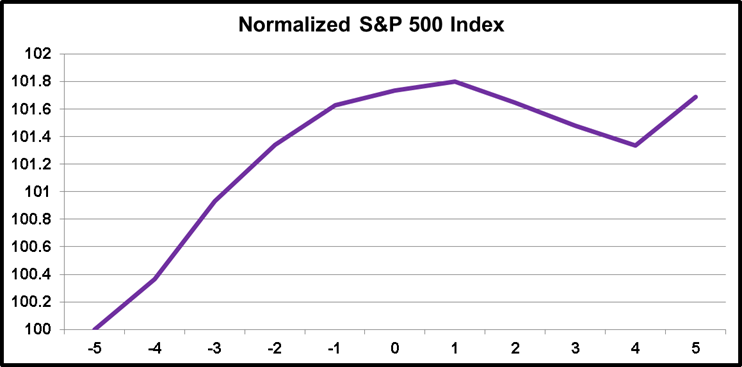 Here are the historical returns before and after Christmas since 2010 in detail:
T = last trading day before Christmas Day

Here are the average returns and percentiles amongst Normal Distribution of similar period returns. Normal Distribution Figures above 68% and below 32% are deemed to be Statistically Significant: