While Nasdaq investors have experienced a bumper year for their investments, bolstered by outperformance of the likes of Netflix, Amazon and Microsoft, value investors have had a tough time finding outperformance in a market beset by historically high valuations, one of the priciest in history. CrowdThnk's positioning data reveals that positioning is once again near the extreme overweight side of the spectrum, especially amongst outperforming Tech and Consumer Discretionary sectors. With a clear decline in breadth amongst advancers in the S&P – only 8 stocks account for 100% of the price gains in the index this year – the market is looking increasingly like the late stages of the stock market cycle. Most late-cycle stages typically end with a melt-up higher in the most attractive asset class and with a return of +13% YTD, the Nasdaq fits that description, benefitting from investor inflows that have shied away from assets such as Emerging Markets and Bonds. However, with the increased uncertainty surrounding an impending Global Trade War, even the most casual market observer must question whether these lofty valuations are sustainable or if we're heading for a market correction. A look into historical late-cycle, bubble episodes can give us an insight on where we are in the cycle and where we could potentially go from here.
Is the Market in a Late-Bubble Stage?
In order for a major bubble to burst, it must first develop and the current market cycle – over 9 years old – is "long in the tooth" but not quite showing the classic symptoms of a bubble. Robert Shiller, who had predicted the pending market collapse in 1999 as well as 2006, has been on record saying there are not nearly enough signs of euphoria present to make this look like a late-stage bubble, although the evidence is piling up. One of the strongest signs of a late-bubble stage is the psychological effect of investors pouring money into a favored asset class, regardless of valuation, contributing to an acceleration of price. The market has recently seen this on a smaller scale (market cap-wise) in the recent Bitcoin craze which fizzled out at the beginning of the year with latecomers suffering the worst drawdowns. When the talking heads on TV continue to espouse the virtues of a cryptocurrency backed by nothing other than blind faith on a 24-hour loop, there are sure enough many indications of a bubble. However, the main investment class garnering global assets has been the Nasdaq. The average duration between peaks of a bubble's blow-off top is typically 3-4 years, judging from historical episodes: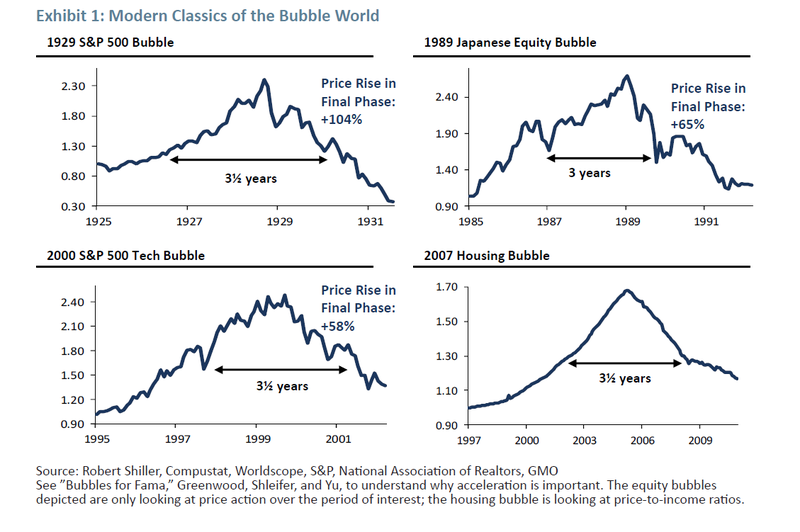 Source: GMO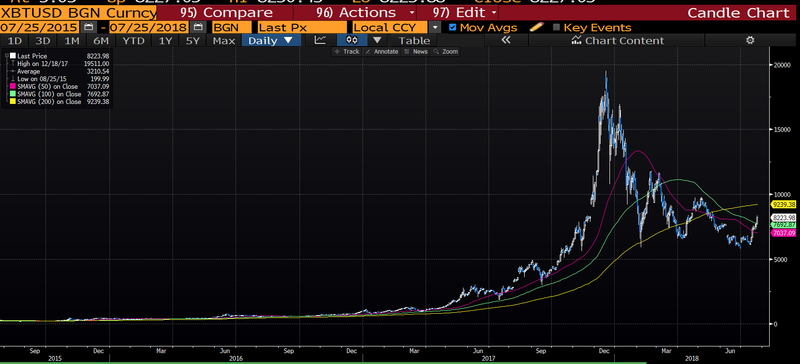 Source: Bloomberg
What does the Advance-Decline Index tell us about the market?
While the surface looks strong as a bull, the underlying components contributing to its current record level is anything but convincing as it's being pulled higher by only a few subset of stocks. The Advance-Decline line is a market technical indicator used by investors to measure the number of individual stocks participating in a market rise or fall, characterized as the Market's breadth. A rising index value suggest that the market is gaining momentum, whereas a falling value suggest that the market may be losing momentum, calculated using the following formula:
Advance/Decline Index = (Advances – Declines) + Prior Advance/Decline Index Value
Typically, the Advance/Decline indicator can give a general picture or advance warning of an impending sell-off as it usually declines before the index falls. Ahead of the 1929 stock market crash, the indicator was falling for over a year, sliding into negative territory, while the S&P 500 peaked 2 years before the S&P 500 Index peak in the middle of 2000 ahead of its decline. The current trend in the Nasdaq and S&P Advance-Decline Index has been generally sagging in a bearish direction, reinforcing the bears' view that this market cycle may be near a top, even though we still may be some time away from a potential crash.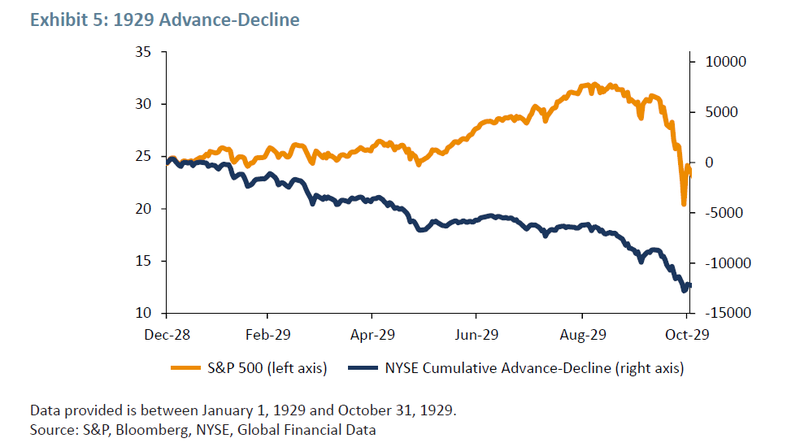 Source: GMO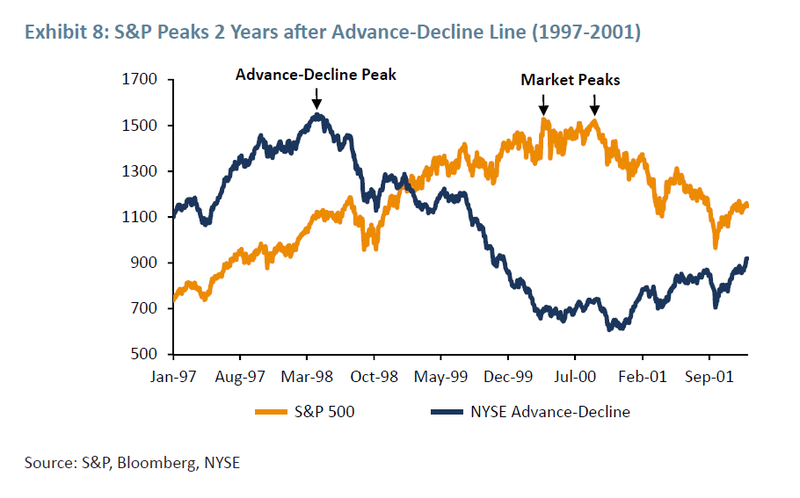 Source: GMO
Which stocks are exhibiting a melt-up in the current late-stage cycle?
Perhaps the strongest indicator of identifying a bubble, even moreso than valuations or pure pricing, is price acceleration. This is driven by speculators crowding into particular assets or stocks out of firm conviction that the winners will continue to accelerate higher moreso than due to fundamental valuations. After posting a stellar gain of over 300%, tripling in value between the lows of 2009 to 2015, the Nasdaq stalled and trended sideways for a period of 2 years. Since the start of 2017, the Nasdaq has gained nearly 60%, an amount congruent with historical blow-off tops in markets. Within the Index, there are a handful of standout performers that have been accumulating an increasing flow of funds, including Netflix, Amazon, Google and Microsoft. All of these stocks have demonstrated CrowdThnk positioning scores of extreme overweight around 10.0 throughout the past 12 months, exhibiting a narrowing breadth into these outperforming high-flyers. Concentration and crowdedness in stocks is the essence of an escalating euphoria. By late-stage cycles, many investors are fixating on "winners" with the primary motive being further stock gains, rather than any logic of long-term value. Thus, as the market soars, attention is increasingly focused on those with the largest earning and stock price gains, and interest in the B players is quickly forgotten as investors hone in on the winners. This contributes to a downtrend in the Advance-Decline Index as discussed earlier.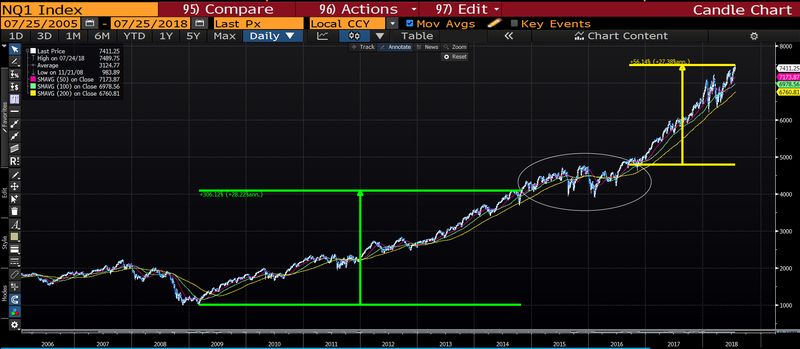 Source: Bloomberg
Netflix's CrowdThnk Positioning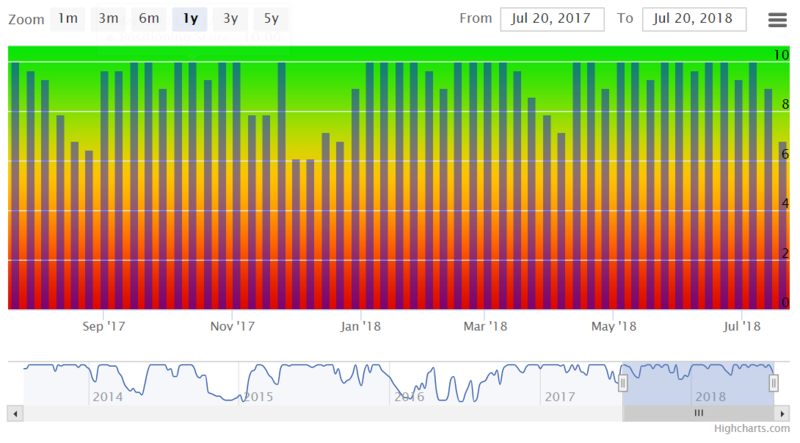 Source: CrowdThnk
Amazon's CrowdThnk Positioning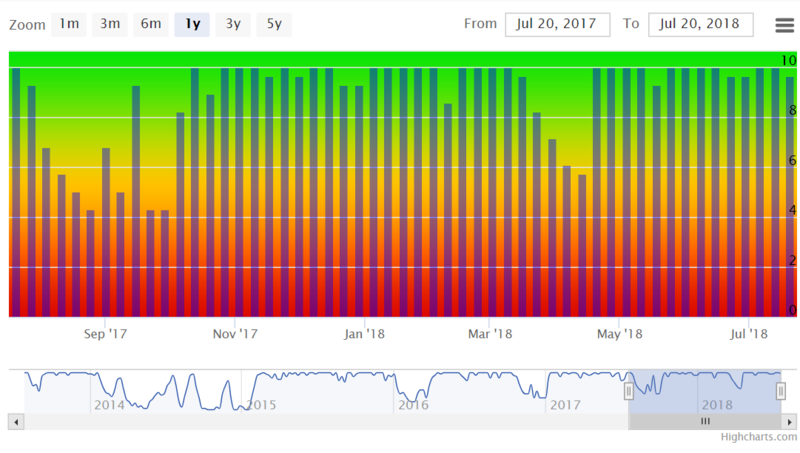 Source: CrowdThnk
What potential risks lurk in the horizon?
While forecasting the inflection point and predicting when the markets will turn is the million dollar question, there are a few economic and geopolitical factors that are lurking in the horizon. The ongoing saga and weekly threats of tariffs fomenting the Global Trade War is high at the top of many investors concerns. While only a small fraction of the potential trade tariffs have been officially enacted, the potential car tariffs on NAFTA and 2nd round of Chinese tariffs loom in the distance with uncertain probabilities. Any escalation of these threats will certainly invoke a tremor through the markets, but investors are still discounting the likelihood that they'll pass given the shifting rhetoric that can change on a whim.
One side effect of tariffs are higher input and consumption costs for producers and consumers, leading to higher inflation. This can be particularly impactful within a tight labor market with sub-4.0% unemployment rate as escalating costs lead to demands for higher wages, kickstarting a virtuous cycle. The diffusion index of all regional CPI components have continued to trend higher in the United States and increasing PPI costs are putting pressure on manufacturers to pass on the costs to consumers or find alternate solutions. Harley Davidson has recently announced plans to move a manufacturing facility from Missouri to Thailand and is considering alternate routes to sell motorcycles within the European Union, which imposed tariffs on a select handful of products including Harley Davidsons on June 22nd. Increasing prices poses a potential risk for US companies, depending on whether they can absorb the costs or parlay it off on their consumers, a unique situation for all companies.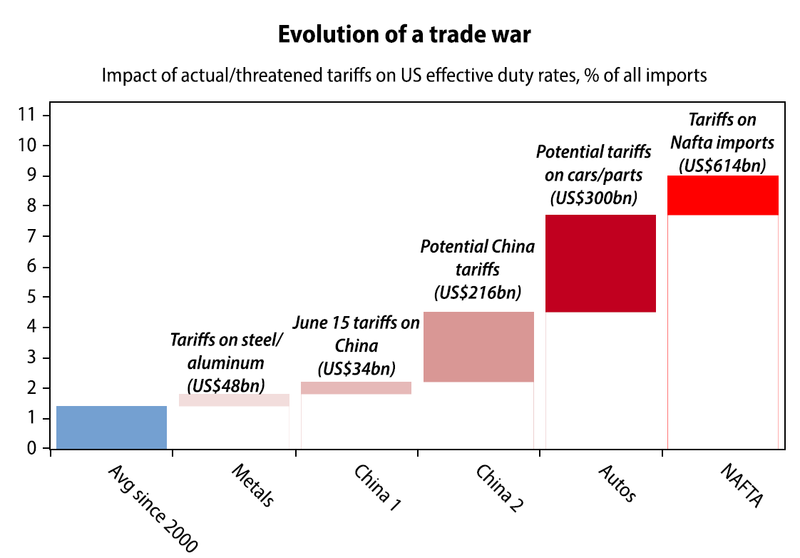 Source: GaveKal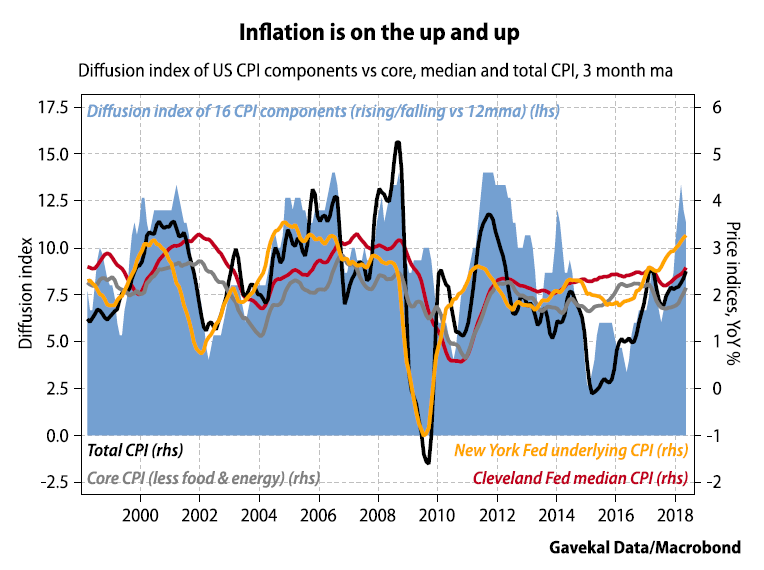 Source: GaveKal
Late-Stage Cycles end with a melt-up
By all accounts, the evidence adds up to undeniably place the market at the late-stage of its cycle. Whether we're in the 7th or 9th inning is anybody's guess, but factors include the Advance-Decline Ratio, the growing concentration (and lack of breadth) within a select few stocks, the relative crowdedness of positions given by CrowdThnk's score and the high valuations placed on favorite stocks. While markets typically end with a sharp acceleration higher, there are a number of factors that could derail the potential melt-up, including rising inflation and an escalating trade war. The Fed's easy monetary policies over the last decade including Quantitative Easing have certainly contributed to the high valuations of assets worldwide, similar to the impact of easing before the Nasdaq bubble of 2000 and subprime crisis of 2008. Momentum stocks tend to outperform lower beta at this stage of the cycle. So while an investment in the most popular and high-flying stock may work for some time going forward, one should be vigilant and take notice of the warning signs that mark a late-stage cycle melt-up.