It is very important to identify crowded trades in the stock market as an overcrowded or under-positioned stock may demonstrate distinct, predictable probabilities in terms of future price action. Based on CrowdThnk's consensus positioning measure, here are the current 10 most crowded trades in the stock market:
Top 5 Most Overweight/Long Stocks
1. Apple (AAPL)
As the world's largest company in market cap, Apple's stock positioning continues to be overweight, qualified as the most crowded stock in S&P 500 according to CrowdThnk's measure. Fundamentally, the company is expected to expand both its top and bottom lines this quarter and for the year, while also jumping into new growth areas. The earnings release on July 31 could potentially boost the stock price further.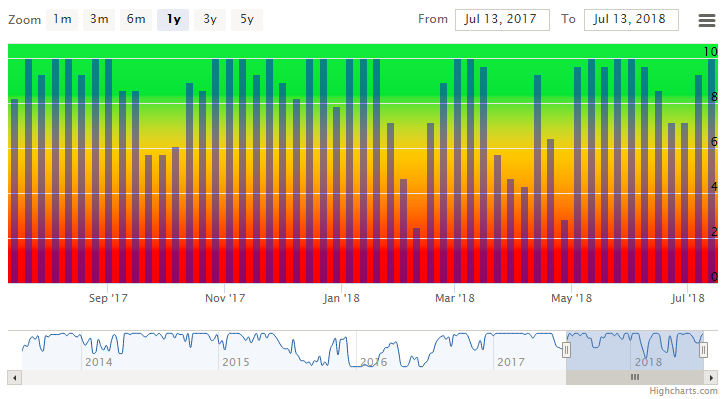 As Facebook's stock price continues to climb higher over the past 3 months, its market positioning measure again reaches the top of the range, according to CrowdThnk's positioning scale. Markets is becoming more bullish on Facebook as various growth drivers such as Instagram will enable the social media giant to drive long-term revenues growth without a material lift in ad loads. By hiring Google's head of chip development, Facebook is trying to increasing growing focus in the AI space.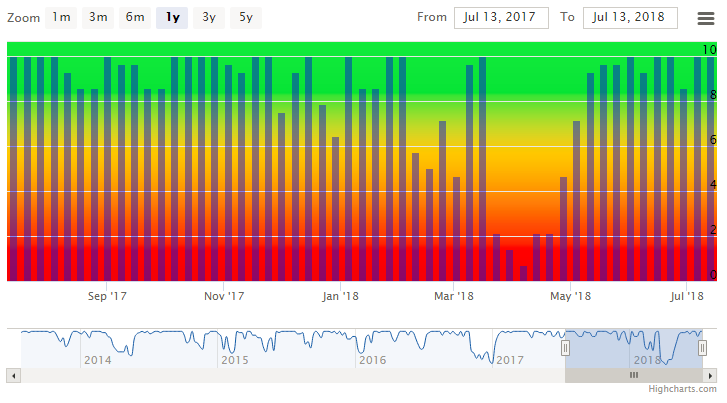 3. Advanced Micro Devices (AMD)
Positioning measure for Advanced Micro Devices has been very strong in recent months. AMD has gained more than 60% so far this year. In comparison, Computer and Technology companies have returned an average of 10.4%. This clearly shows the outperformance of the stock within the sector. As the Q2 earnings report is approaching in about a week, shares could have more upside if results come out beating consensus expectation.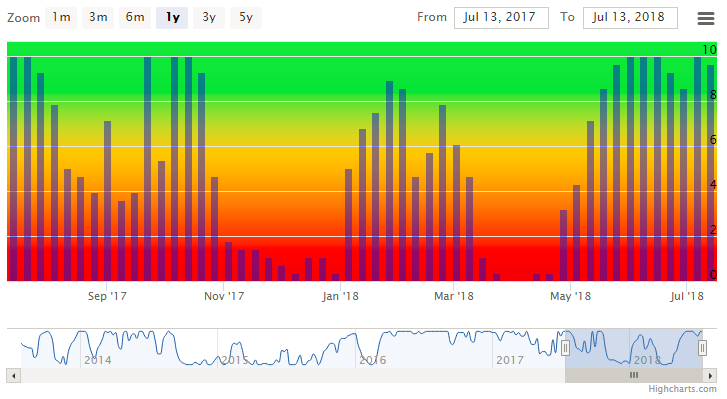 Microsoft's stock price has been rallying strongly over the recent months, registering one of the most overweight stocks based on CrowdThnks' positioning measure. Microsoft has bolstered its business in recent years in order to adapt and grow in the new age of computing. The company's Productivity & Business Processes unit, which includes Office, Office 365, LinkedIn, and Dynamics CRM businesses, also surged. The company has gone on an impressive climb and is positioned to continue to expand.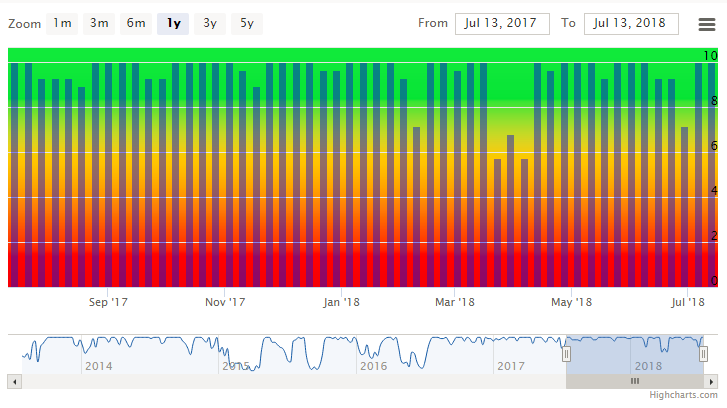 The e-commerce giant's stock price hit all-time high ahead of Prime Day and is one of the most overweight stocks according to CrowdThnk's positioning measure. Amazon is expected to report second quarter earnings on July 26. The stock is up more than 50% so far this year. As the company is quickly expanding to new growth areas, including AWS, it is still a retail business at its core and its overall e-commerce and retail business account for nearly 80% of Q1 revenue and remains vitally important going forward, dictating the direction of its stock price.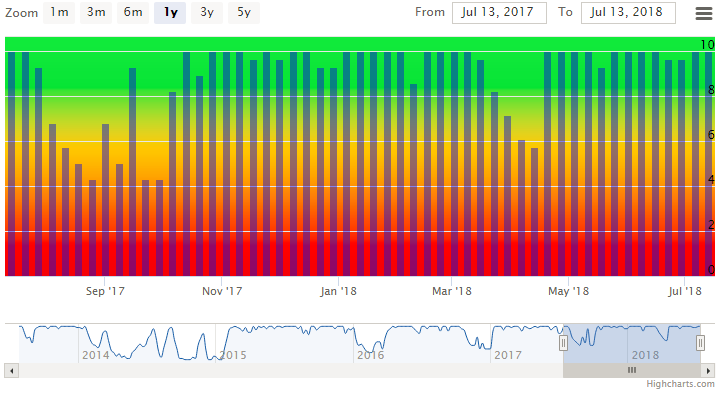 Top 5 Most Underweight/Short Stocks
As the trade war tension between US and China was elevated, Ford's stock price has been falling for more than 20% over the past month. Its positioning has become one of the most underweight stocks, based on CrowdThnk's measure. Ford has said it has no plans to raise prices on its vehicles in China, suggesting it will absorb the cost of any new Chinese tariffs. The longer the trade war drags on, the more likely its impact could be much broader and would further auto companies like Ford.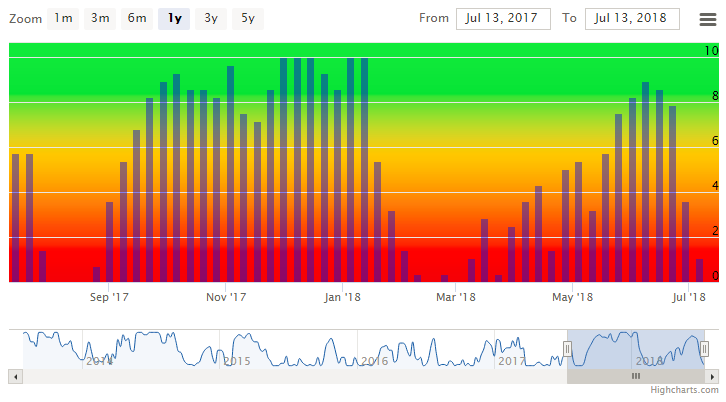 Applied Materials' stock price has decreased more than 7% this year alone, making it one of the most underweight stocks. Wall Street analysts have shown that the company is currently underperforming its peers from various aspects including earning growth, profitability and returns, cash flow, liquidity and financial risk, and valuation. Overall, market is likely to remain bearish on the company's future outlook and its stock price could continue to underperform.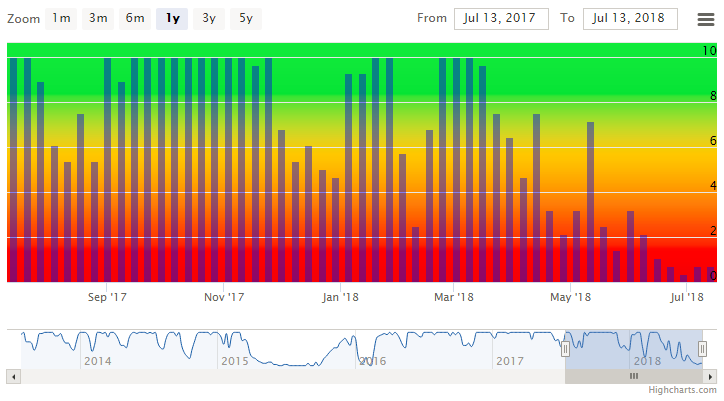 3. AT&T (T)
AT&T's current market positioning is at the bottom of the range, according to CrowdThnk's measure. The telecom company saw significant sell-offs stemming from disappointing quarterly results and uncertainty surrounding the Department of Justice's challenge to its acquisition of Time Warner and whether the merger will actually work to its benefit. Though the stock is down by more than 11% over the past 5 years, options traders are betting the stock will rally by the start of next year.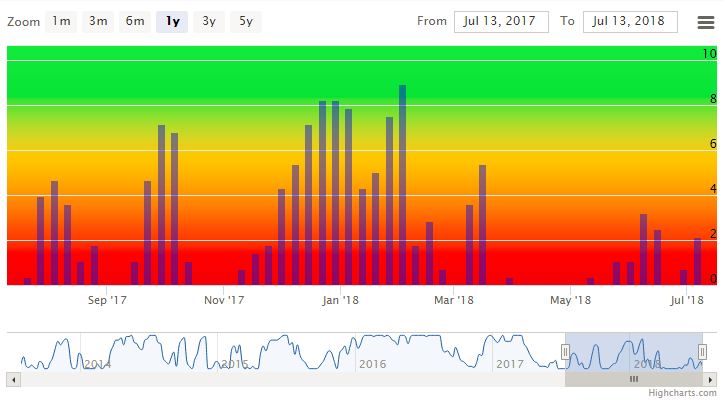 Over the last 6 months, DowDuPont's stock price has lost more than 10% and registered as one of the most underweight stocks according to CrowdThnk's positioning measure. DowDuPont has some pretty lucrative brands with great long-term potential, which might be expected for a $155 billion industrial conglomerate. However, with the upcoming spinoffs looming, investors should be cautious of the risks.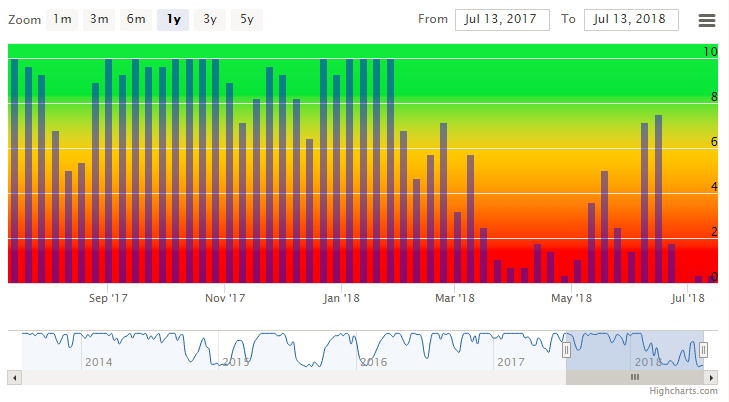 As the stock price continued to fall over the recent months, Starbuck's market positioning is currently sitting at the bottom of the range, based on CrowdThnk's measure. The company noted that it expects to post just 1% global comps growth this quarter. Also, it announced that it bumped up its share buyback plan by $10 billion to $25 billion and upped its quarterly dividend by 20%. The possible partnership with Chinese e-commerce giant Alibaba BABA shows the company's focus on its growth in the world's second-largest economy.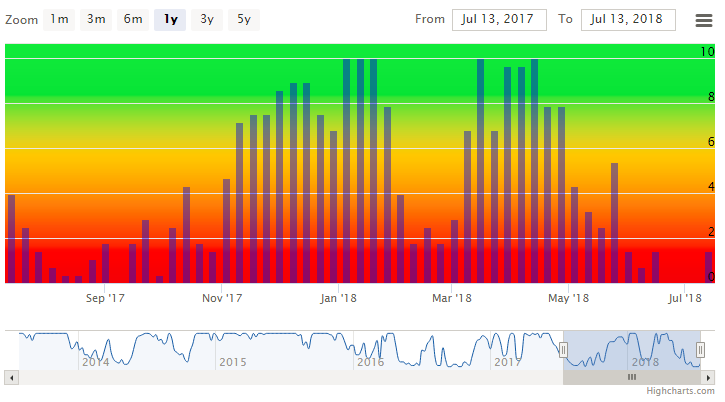 Here is a summary of the most crowded stocks:
Top 5 Most Crowded Long Stocks:

Top 5 Most Crowded Short Stocks: